What Are The Best Watch Boxes?
Contents
What are the Best Watch Boxes? This is an incredibly difficult question to answer as there are so many factors to consider when choosing a watch box and as with so many things in life, we all like different things which is why there is so much choice when looking at watch boxes. The best watch box for me may be very different from the best watch box for you.
The main things that you would want to consider when selecting the best or most suitable watch box would be:
The number of watches to be held in the box.
Materials … Wood, Leather etc…
Style … Traditional or Contemporary
Colour
Budget
Practical storage or Presentation
Extra features
There are hundreds of different watch boxes available in the market place for you to consider and I cannot possibly comment on every box. Instead, I will concentrate on the boxes that we stock! We have very carefully curated a beautiful collection of watch boxes which we feel offers something for just about every occasion from a budget-conscious 3 piece to a magnificent 10 piece handmade burr walnut presentation box.
Number of Watches
This seems like it should be the simplest of decisions to make but things are not always as simple as they appear. For example, do you buy a watch box that holds exactly the number of watches you own or do you think about having some extra capacity for a growing collection … let's face it if you are buying a watch box for multiple watches you have already been bitten by the watch bug.
Often the price difference between a 5 piece and 10 piece box from the same range may not differ too much in price as the cost of manufacture is in the construction of the box and the slight increase in materials does not necessarily add too much to the cost. A 10 piece box often represents much better value for money than a 5 piece.
Materials – What is your box made from
There are several options when it comes to the materials that the boxes are made from however all our boxes are guaranteed to look and feel luxurious.
At the entry-level for our boxes collection, you will typically find lovely faux leathers which look and feel extremely close to the real thing.  Some of the faux leathers even feature grained finishes which makes it almost impossible to tell them apart from genuine leather. The Benson Black Series watch boxes use these materials and look fantastic!
Many inexpensive Watch Boxes that are available in today's market are constructed from nothing more than cardboard but the higher-end boxes that are available at 1010 Boutique like Scatola del Tempo and Rapport Watch Boxes are handcrafted from wood and finished with glorious, deep polished finishes or are covered in beautiful high-grade leathers.    
The inside of the box is arguably more important than the exterior as it is the inside that comes into contact with your watches.
ALL our boxes deliver on linings from silky fabric interiors at the entry-level moving to soft velvet or velveteen and the softest genuine suede or calf skin leather at the higher end of the range. 
Style … Traditional or Contemporary
We offer a wide range of different styles to suit all tastes … whether you are looking for something contemporary or maybe something a little bit more traditional we are sure to have something to suit.
More modern or sporty watches would maybe sit better in something with a little bit more of a contemporary feel whereas older and more traditional looking watches generally sit better in a more traditional looking box.
Colour
The colour of the box can vary both on the outside and the inside of the box and you can choose to select a box that you simply like the colour of or one that complements the colour/feel of the watches sat inside them.
Heisse & Söhne offer a range of boxes with classic combinations such as black externals with grey interiors to more contemporary combinations like the Brown and Orange of the Valigetta range by Scatola del Tempo.
Rapport boxes are arguably more traditional combinations with classic brown and black combinations or gorgeous wooden boxes with matching interiors. The Brompton Brown leather Box features a subtle brown suede lining and is finished with gold fittings and any watches with gold cases, for example, look like they are sat in the perfect place.
Budget
We have carefully selected our range of boxes to fit with most budgets. The Oxford range from Heisse & Söhne or the Black Series from Benson start at a very reasonable price but still look great and offer a wonderful solution for your watch storage needs.
The Executive range from Heisse & Söhne caters perfectly for the mid range pricing while offering superior finishing and luxurious interiors.
If you are looking for something a bit more special to treat yourself or as a gift for a special occasion then boxes from Rapport and Scatola del Tempo will fit the bill. These boxes are more expensive but when you consider that they are handmade using the finest of materials and look as beautiful as they do, they still represent great value for money. The finest of watch collections would not look out of place in one of these boxes.
Practical storage or presentation
This is another important thing to consider when selecting the best watch box. If you simply want a safe storage solution for your watches when they are sat in a safe then there is arguably no need for an elaborate watch box and a simple vault tray with a lid is adequate.
However, if you wish to use the box as more of a presentation piece, then the box that you choose must compliment your watches and suit your style.
As we said at the start there is a fantastic selection to choose from so please browse our collection and if you require any assistance then please do not hesitate to get in touch.
To help you get started here are a few of our handpicked favourites:
THE BEST OF THE BEST WATCH BOX:
Rapport Brompton Brown Leather 10 Piece Watch Box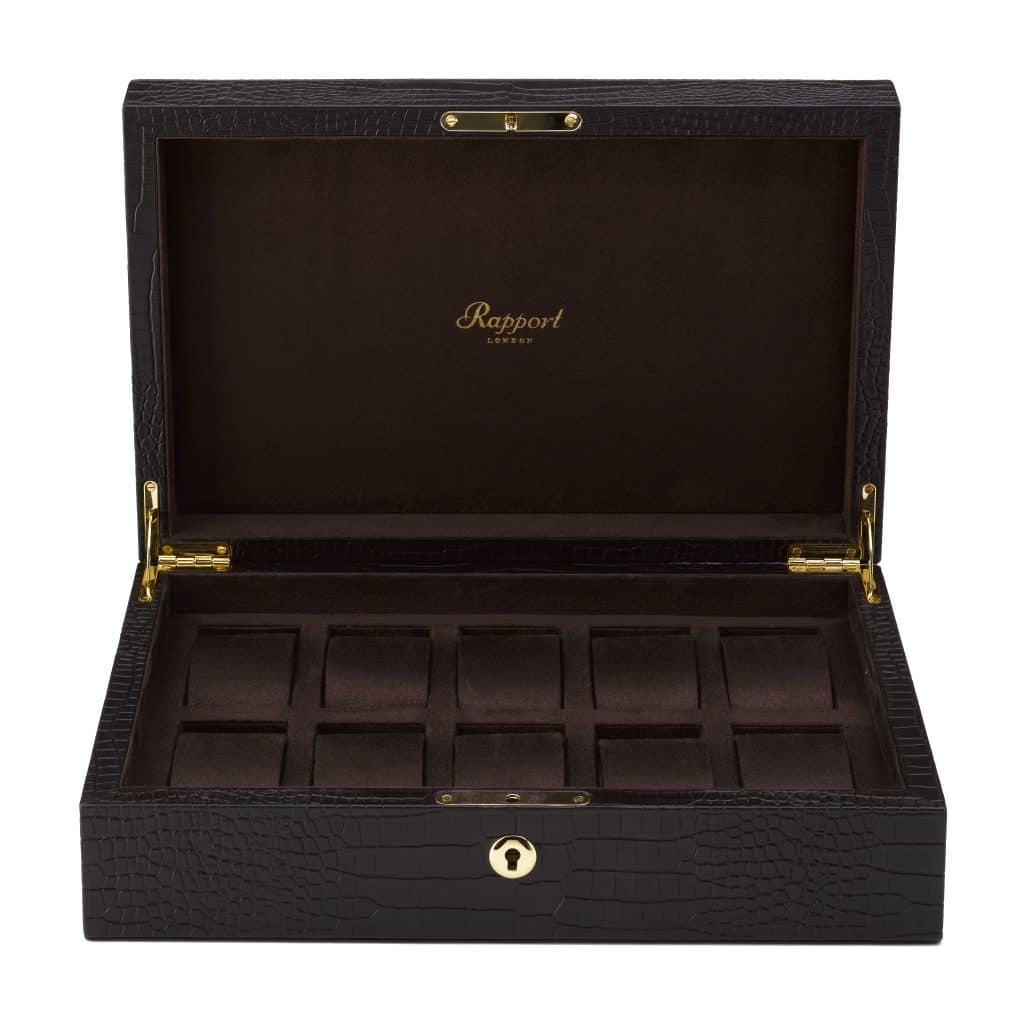 OK, it's certainly not cheap but what more do you want from a watch box … Handmade, gorgeous crocodile effect genuine leather with beautiful suede lining, enough space for 10 watches, classy and simply stunning!
THE BEST BUDGET WATCH BOX:
Heisse & Söhne Oxford Watch Box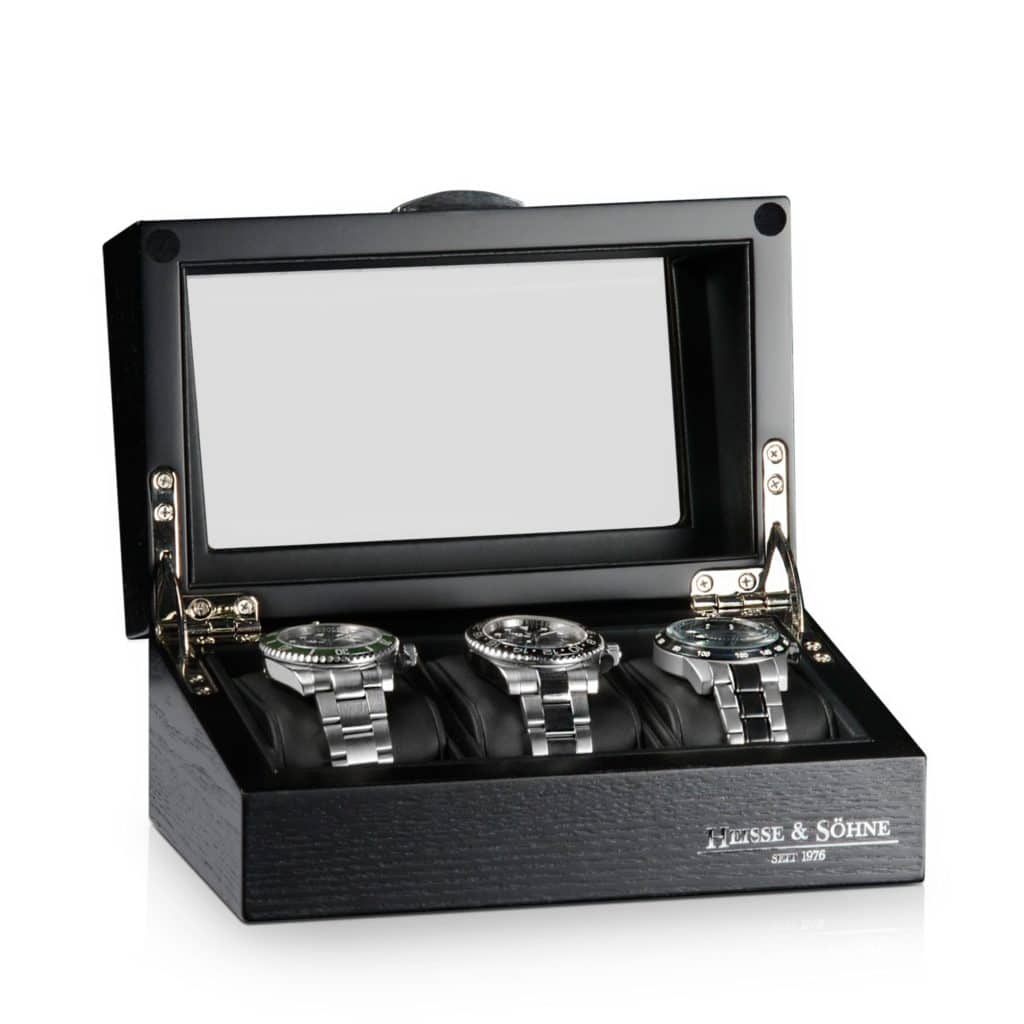 Available in 3, 5 or 10 piece versions, the Oxford is a solid wooden box featuring a dark oak grained exterior with a large window for viewing as well as a luxury faux leather interior. Ranging between £105 and £180
THE BEST GENERAL PURPOSE WATCH BOX: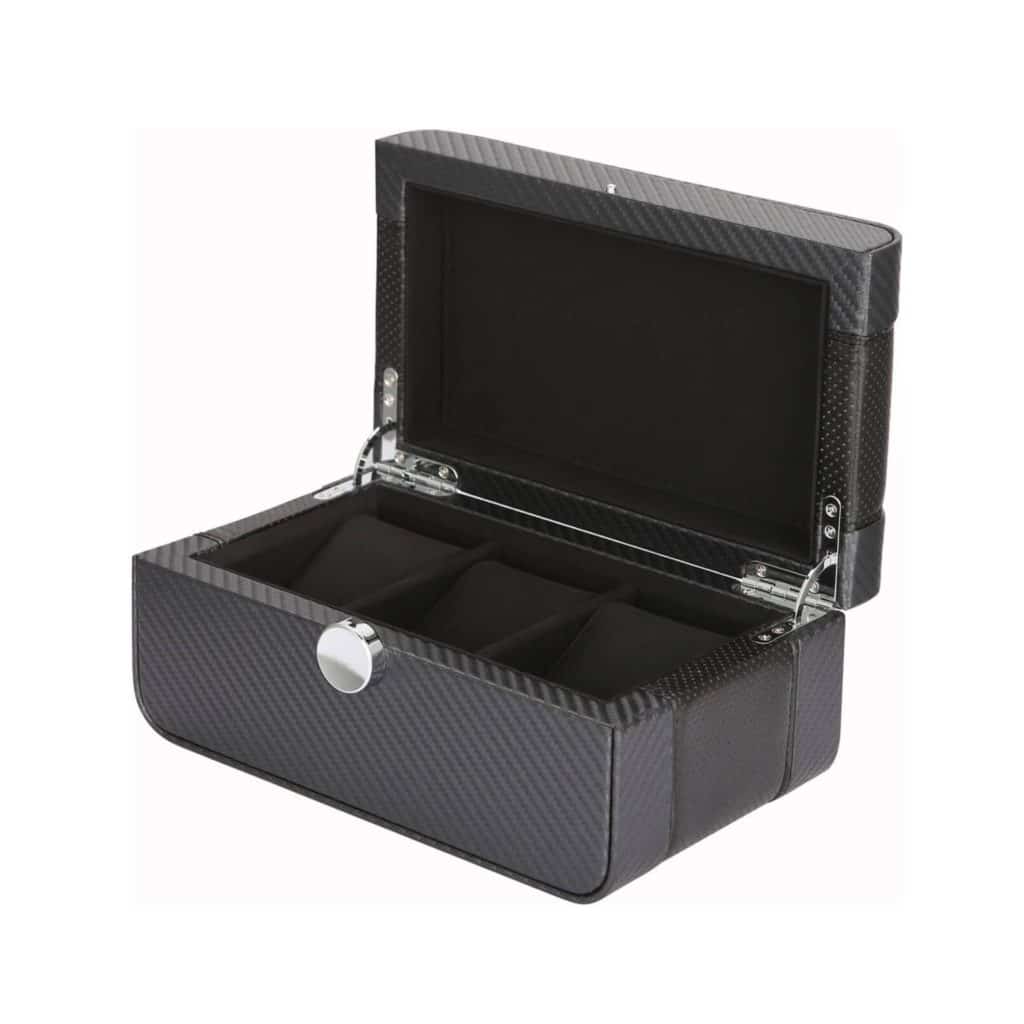 The Black Series watch boxes by Benson offers an 'all rounder' option for the collector. Classic design using a faux leather outer, stitched and perforated for visual appeal, secured with a rotary lock and a soft velour interior with individual removable cushions. Available in three sizes to suit 3, 8 or 12 pieces in a choice of four colours, black, blue, brown and carbon effect, there really is something for all collections and starting at just £70 – all budgets too.
THE BEST WOODEN WATCH BOX:
Rapport Heritage Burr Walnut 10 Piece Watch Box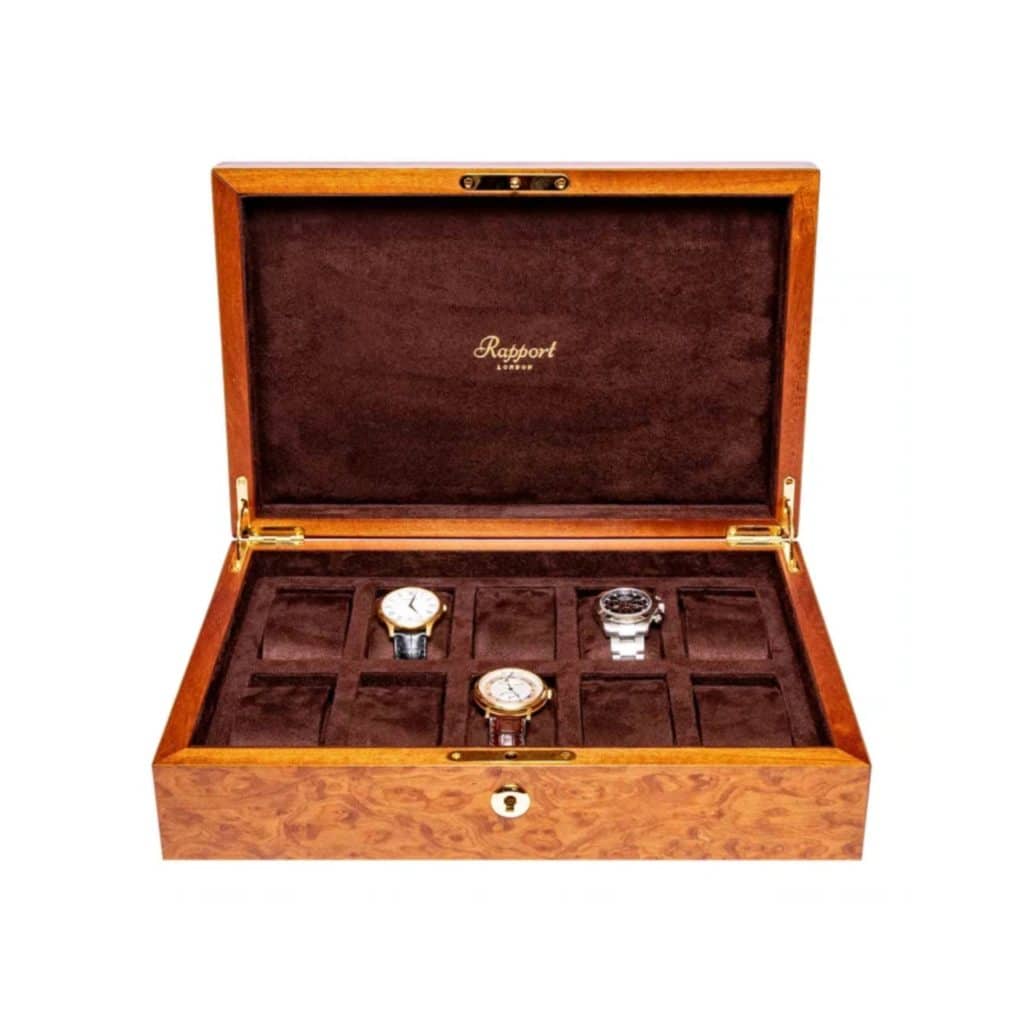 This hand made box is finished in the most wonderful deep gloss lacquer over a wonderfully striking Burr Walnut veneer. The stunning exterior is complemented by a luxurious brown suede interior. Gold coloured fittings give the perfect finish to this stunning watch box.
THE BEST LUXURY WATCH BOX:
Scatola del Tempo Valigetta 4 Piece Watch Box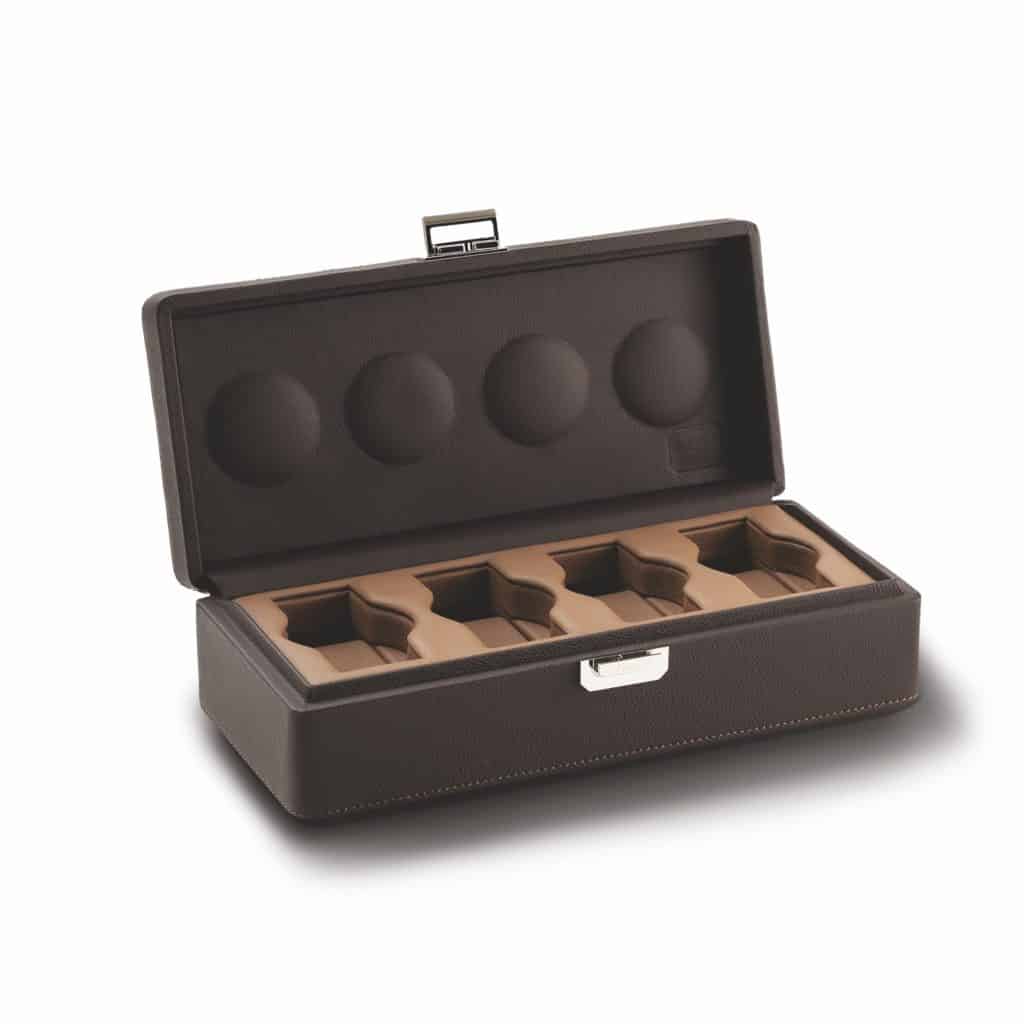 When talking about sheer luxury, it is difficult not to think of Scatola del Tempo. The Valigetta 4 makes up part of a range of sumptuous watch cases that really are unmatched for quality of materials and craftsmanship. Scatola del Tempo produce exquisite cases that cater for between one and thirty two watches, clearly aimed towards the true collector of high calibre timepieces. You might like to read our in depth review of the Valigetta 4 here.
In Conclusion … the answer to the question, 'What are the best Watch Boxes?' will probably look very different depending on who you ask! We all have different requirements, tastes and budgets and there is no 'one size fits all' solution. 
This is why we don't stock just one box or one even one brand … our carefully selected range should include something for just about everyone looking for a watch box.  Please take your time and browse through the collection and of course, if you do require any help selecting the correct watch box for you and your watches then please let us know as we are always delighted to help!
4 of our Favourite Watch Boxes
£79.00

Availability: In Stock - Ready To Ship
we are approved sellers of