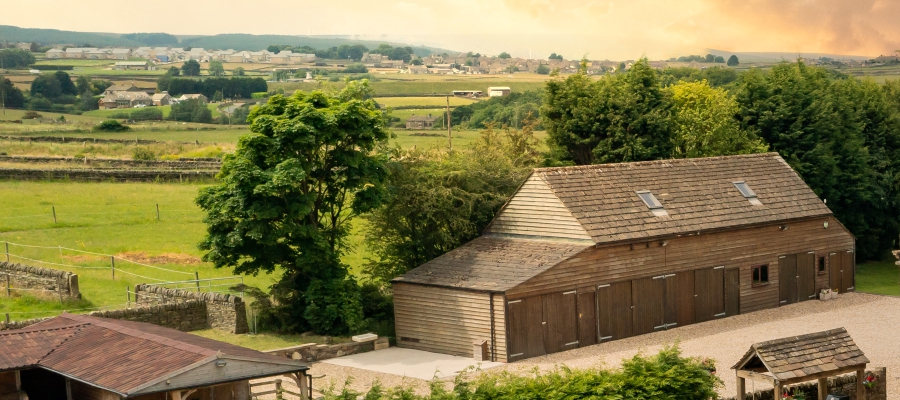 SPECIALISTS IN LUXURY WATCH ACCESSORIES
1010 BOUTIQUE - THE HAYLOFT SHOWROOM
OFFICIAL AGENTS FOR BAUME AND MERCIER
The Hayloft – Watch Accessories Showroom
A traditionally built farm outbuilding that has been converted to a unique and bespoke showroom displaying & stocking one of the UK's widest ranges of luxury watch accessories and the latest novelties from Baume and Mercier.
Location and Setting:
Our location is second to none.  Nestled in the beautiful Holme Valley on the outskirts of Holmfirth, West Yorkshire we are positioned just 10 miles from the M62 and M1 Motorways and less than 45 minutes drive from Sheffield, Leeds and Manchester.  We offer safe, private parking and discretion is guaranteed from our private setting.
Surrounded by countryside we offer a truly relaxed environment to browse our accessories collections.  The showroom is available by appointment only … this way we can ensure that you never feel rushed and you have all the time and privacy you require with a dedicated adviser on hand to help with any questions you may have.
There is always a pot of coffee on the go and we love watches as much as you, so please come and sit and chat about watches or anything watch related.

Why do we have a showroom?
In an age of internet shopping we become so accustomed to everything being just a few clicks away but certain products deserve more than that!
At 1010 Boutique we think you should view, touch and feel the accessories to make the purchase that is right for you and also offer the opportunity to discuss your options with knowledgeable and passionate people.
In 2020, 1010 Boutique were appointed Official Agents for the prestigious watch manufacturer Baume and Mercier. Our showroom offers a relaxed and comfortable environment where you can explore our range of Baume and Mercier watches guided by our knowledgable staff. Please call to make an appointment.
We all know the famous phrase 'a picture speaks a thousand words' but sometimes that picture just cannot do a product justice.  We always aim to use high quality images on our website but they can never truly show just how special certain products are … sometimes the feel of a product is equally important to how it looks.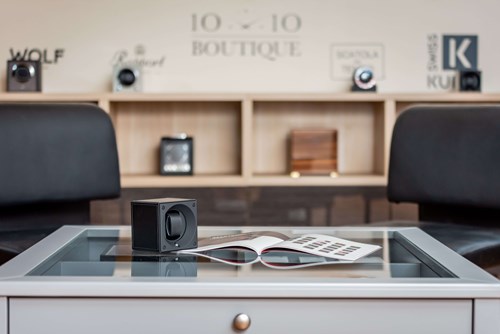 At 1010 Boutique Watch Accessories are not a side line or an afterthought as is sadly so often the case when visiting luxury watch retailers.  The Hayloft has been designed to showcase the best of what is on offer from the leading manufacturers and present you the opportunity to not only handle the products but perhaps more importantly, compare them against alternatives.
We are often asked about the difference between various products and why some are so much more expensive than others when they seemingly do the same job.  I often use the analogy of a Swatch Watch and a Patek Philippe Grand Complication.  The differences between the Watch Accessories is exactly the same.  If you physically see the Swatch next to the Patek the differences are obvious and it is exactly the same for the accessories … give us a call and come and see for yourself.
What's on Display:
Baume and Mercier
All key pieces from the range and novelties from the 2021 releases
Watch Winder Collection
We have an extensive selection of watch winders from leading manufactures with a good selection of finishes, colours and including all the popular ranges from each brand.
Rapport London – Evo Cube, Formula, Perpetua III
Swiss Kubik – StartBox & MasterBox
Scatola del Tempo – Rotor One
Chronovision - One
Benson - Compact, Smart-Tech II, Black Series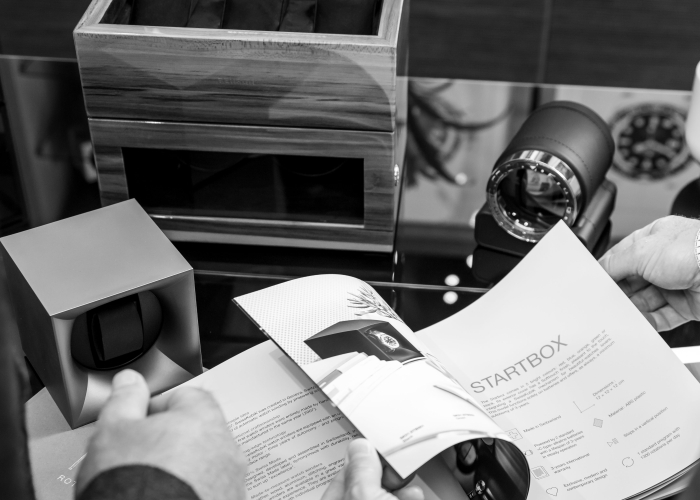 Watch Boxes Collection
We carry a range of Benson Watch Boxes to suit 3, 8 & 12 piece collections.
We also stock a range of premium quality Rapport Watch Boxes. The level of detail and finish is excellent and the boxes really do come to life in the flesh.  A Rapport Box will happily be a fitting place to hold the best of watch collections.
We also stock the Valigetta cases by Scatola del Tempo which are quite simply a masterclass in Italian leather work. Read our article on the Valigetta 4 here. Perfection in luxury watch storage.
Watch Roll Collection
The ever popular and essential travel companion certainly given its fair share of showroom space.  Our collection of Watch Rolls proves that things really have come a long way from the traditional simple triple watch roll.
We have rolls from Rapport and Scatola del Tempo in a range of colours and materials.  Singles, Doubles and Triples, rolls, boxes, slip cases, leather, canvas and even denim, the choice is vast.
Want to see something in particular?
We aim to stock the most relevant products available to ensure the relevance of our showroom but we will always ask if there is anything in particular you would like to view … so if it's not in stock we will aim to have it here for when you want to view it.
Our bespoke personalisation services
Many of our leather items can be personalised with initials, names etc…  Sitting face to face gives us the perfect opportunity to discuss your requirements and personalise the product perfectly for you.
Please call us on 0161 468 2780 or email sales@1010boutique.co.uk to make an appointment.  We offer great flexibility and can even offer appointments in the evenings and weekends … we look forward to welcoming you.