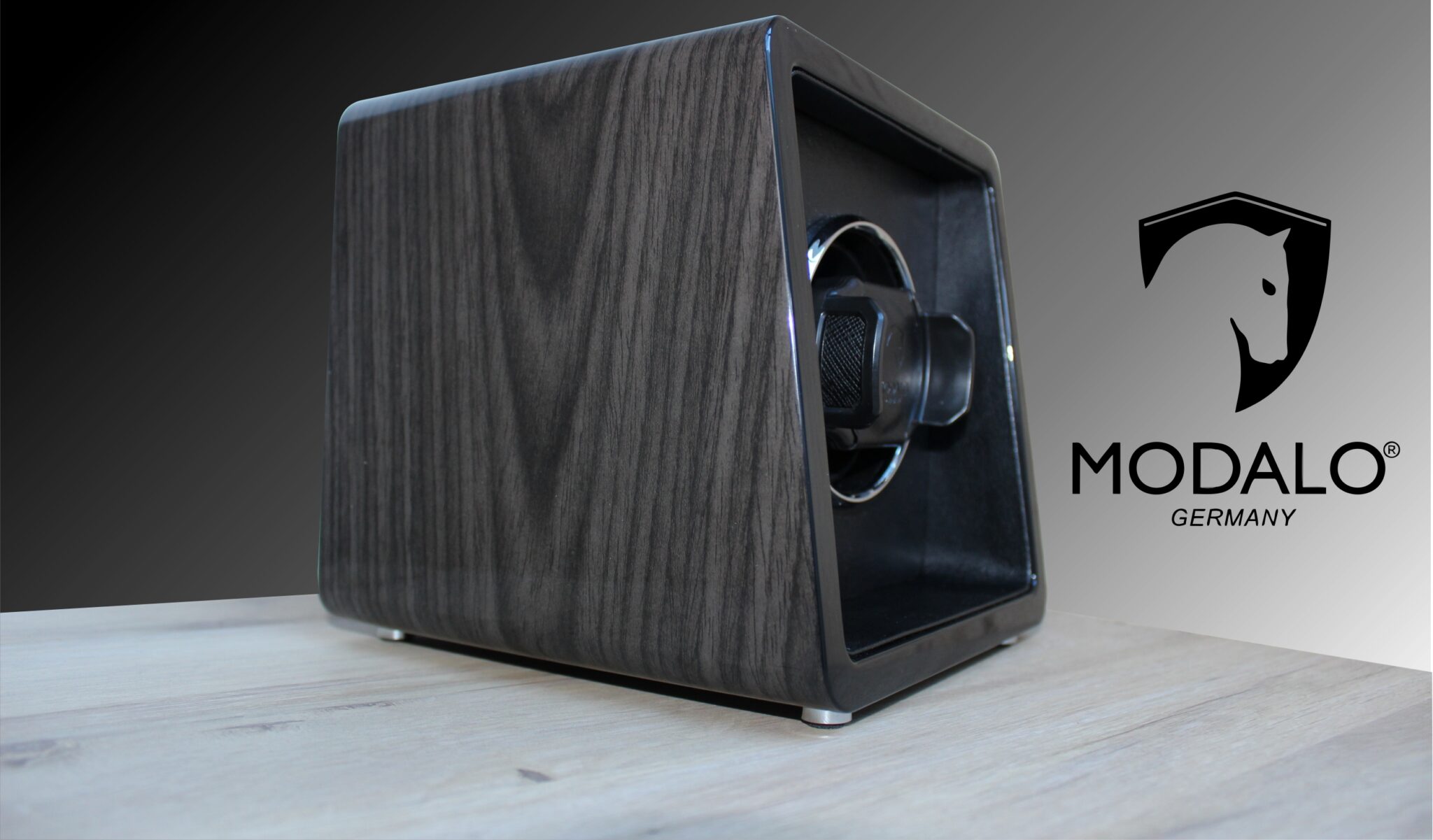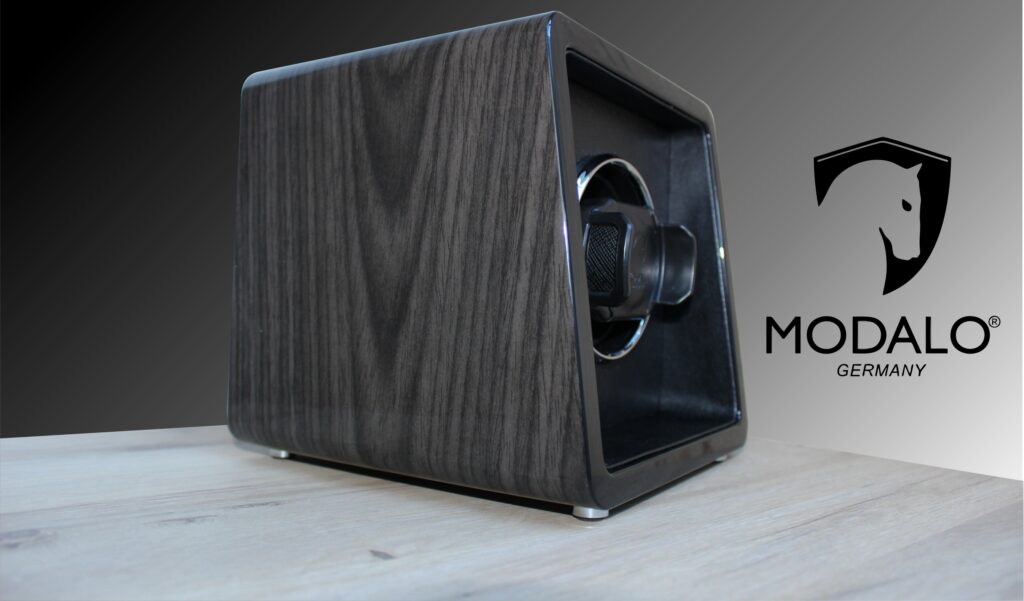 In 2021, 1010 Boutique became the sole UK retailer of Modalo Watch Winders, a German brand that has won numerous design awards for their innovative watch winders. Manufacturing high end, exquisitely finished products that set themselves aside from many other brands by housing superior mechanisms and embracing stand out designs in a somewhat crowded and rigid industry.
Upon unboxing the Saturn you notice that this is more than a 'cube' winder, both in size and design. Not that there is anything wrong with compact cubes – they have great appeal, taking up small areas and packing everything into a paired down unit – but the Saturn offers a little more 'statement' without being overbearing or becoming a 'display case' type winder.
Unwrapping the branded paper you can't help but be taken aback by the finish, it has a real sense of depth and is lacquered to a offer a stunning gloss finish. 1010 Boutique are currently stocking the Piano Black, Macassar and the Carbon Fibre versions of the Saturn. All stunning in their own right but offering different aesthetics depending on one's taste, the watch it will house and the location it might be situated.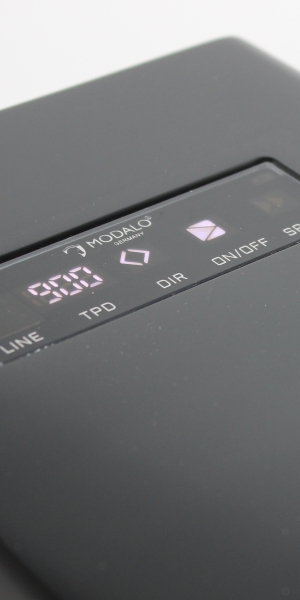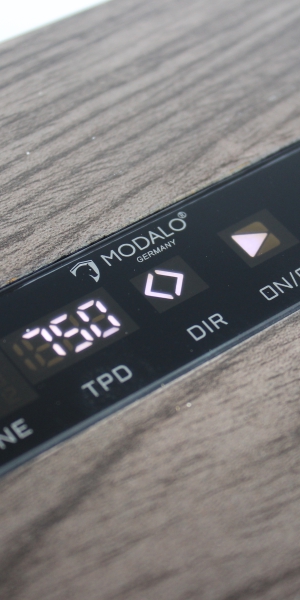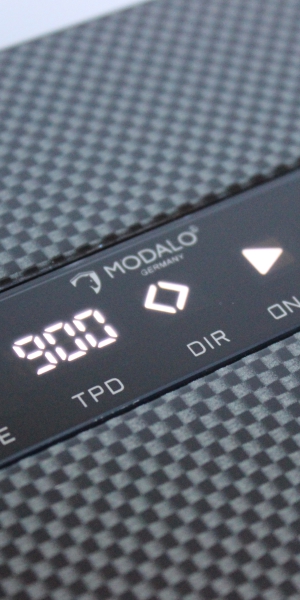 At 1010 Boutique, we usually see Piano Black as a more contemporary and sometimes a conservative choice as it will probably suit any environment, with the Macassar lending itself well to a more traditional watch and location and the Carbon Fibre option positioning itself for the more sporty and outgoing watch enthusiast. This said, it is a personal choice and all the finishes are carried off to perfection.
As alluded to earlier, the Saturn is not a compact winder per se, it is not afraid to be seen and hasn't been designed to sit in a corner and take up minimal space. Upon handling, there is a good heft without being heavy (1.55 kg to be precise), with the solid (New Zealand) wood construction having a reassuring quality/weight feel. The top edges have been given radii to soften the corners and the front face has been cut back in an angular fashion that almost feels like the watch is being presented to it's owner. The forward facing area is covered in a contrasting synthetic material similar to a faux leather. Atop the Saturn is the flush touchscreen control which gives access to a multitude of options displayed in a soft blueish white LED display.


In 2014 Modalo designed the first touchscreen technology to be used on a watch winder – the MV3. Further innovations and developments mean that Modalo now offer their MV4 tech in the Saturn (among other models in their line up). This is where Modalo are taking a lead in winder offerings and presenting options to cover all bases of watch TPD requirements.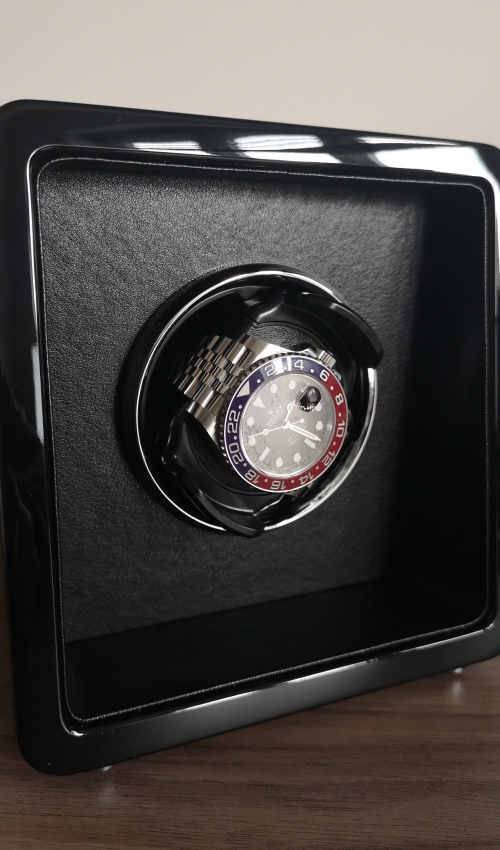 These days the majority of automatic watches require between 650 tpd bi-directional (both ways) and 850 tpd bi-directional. The tech within the MV4 powered Saturn enables you to program the winder from 650 tpd up to 1000 tpd in 50 tpd increments, each of these settings can be programmed to CW, CCW or Bi-directional, giving 24 different programs. Then you have the Speed Winding function, this is designed to continuously wind your watch from stopped in one program, ie without the rest period of the standard program. Again the speed wind can be set to CW, CCW or Bi-Directional, taking the total number of programs available to 27. Rounding off the functions featured on the display is the battery life indicator, especially useful if placing in a safe.
Like most winders on the market, the Saturn will complete the required amount of turns per day over a 24 hour period. So it will perform perhaps 3 or 4 minutes of winding and then rest for a period, then repeat over 24 hours until the program has completed, and repeat this daily until you either switch it off or alter the program. While in the resting phase, the winder will always revert to have the watch at the 12 o'clock position.
The underside of the Saturn houses the battery compartment that utilises 4x C-Cell batteries, enabling, should it be required, that the winder can sit inside a safe for a couple of years, keeping your watch ticking while not requiring any holes to be drilled into the safe to accommodate power cables. On the back side of the winder, there is a the jack for the power cable should you decide to run it off the mains. Within the box are selection of adaptors with interchangeable heads to suit UK, EU, US/Japan and AUS/NZ sockets – the most comprehensive range we have seen at 1010!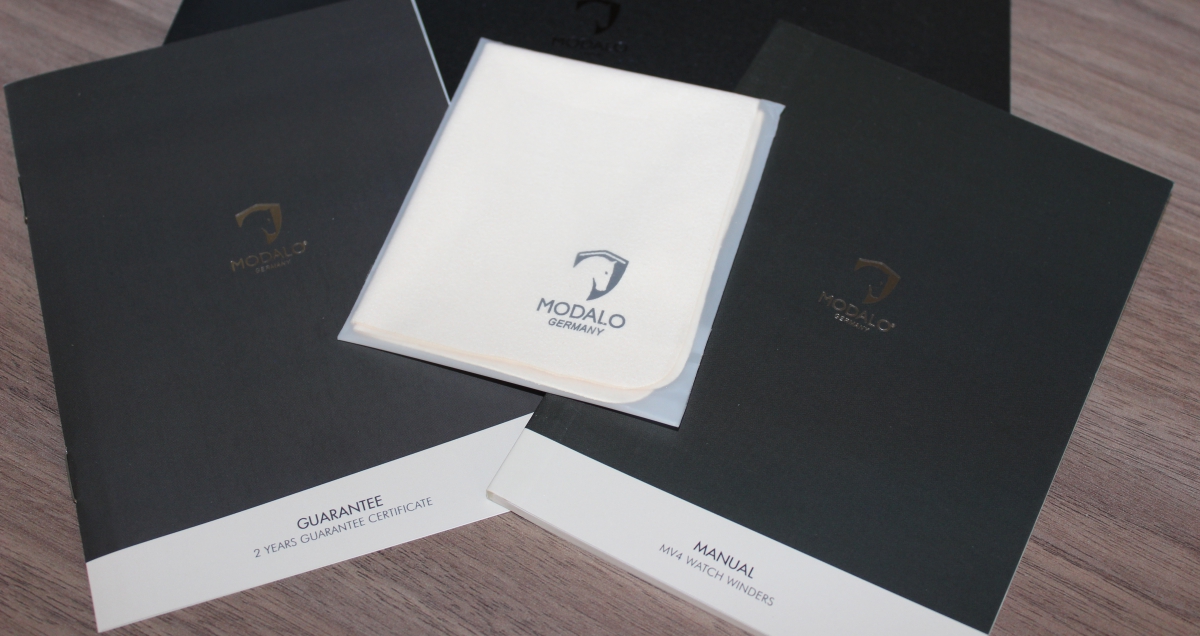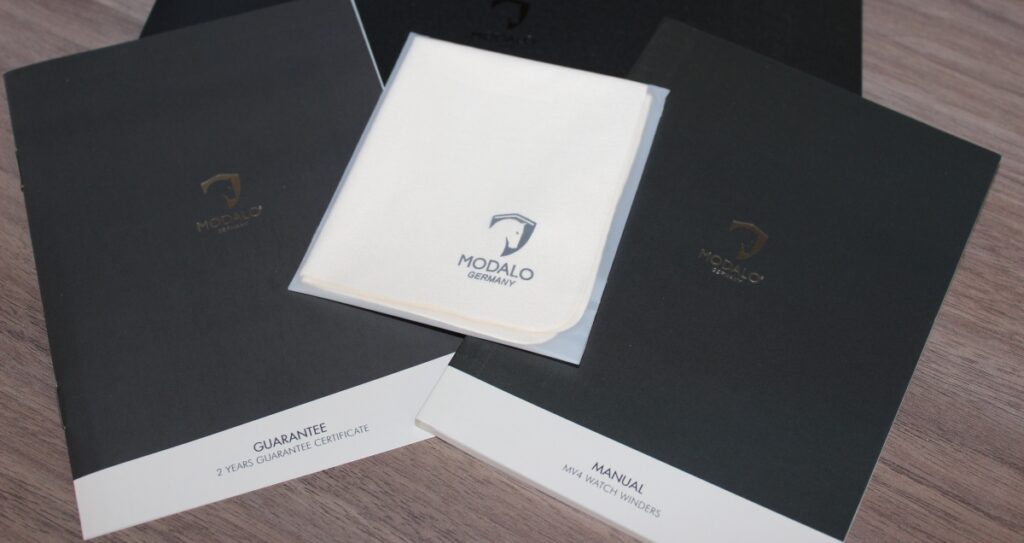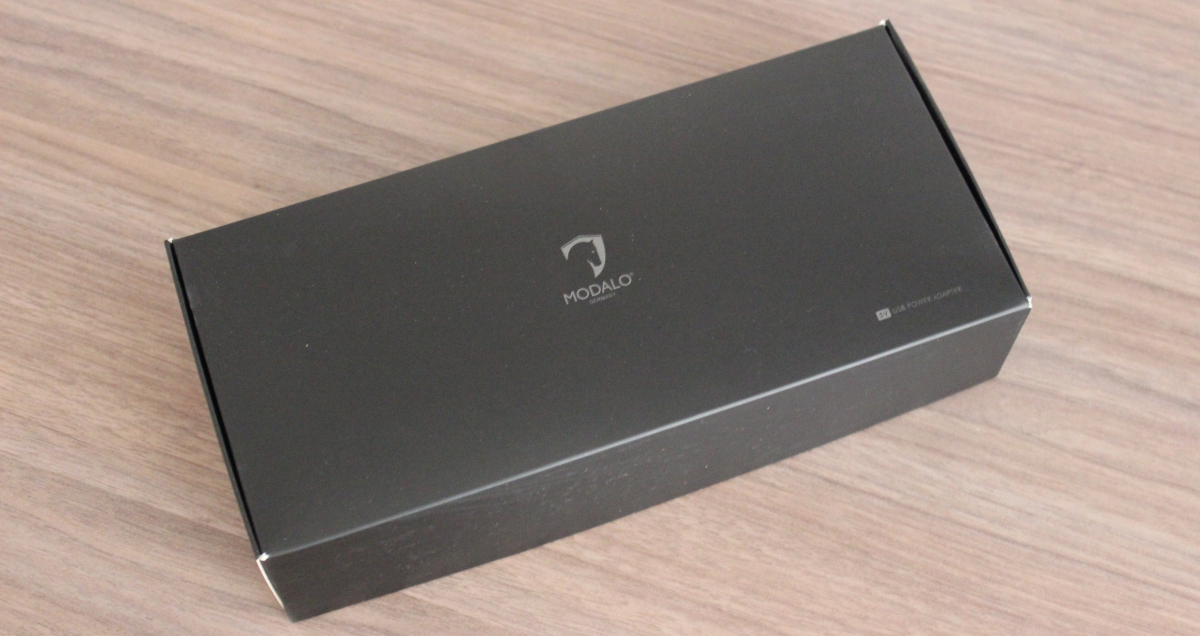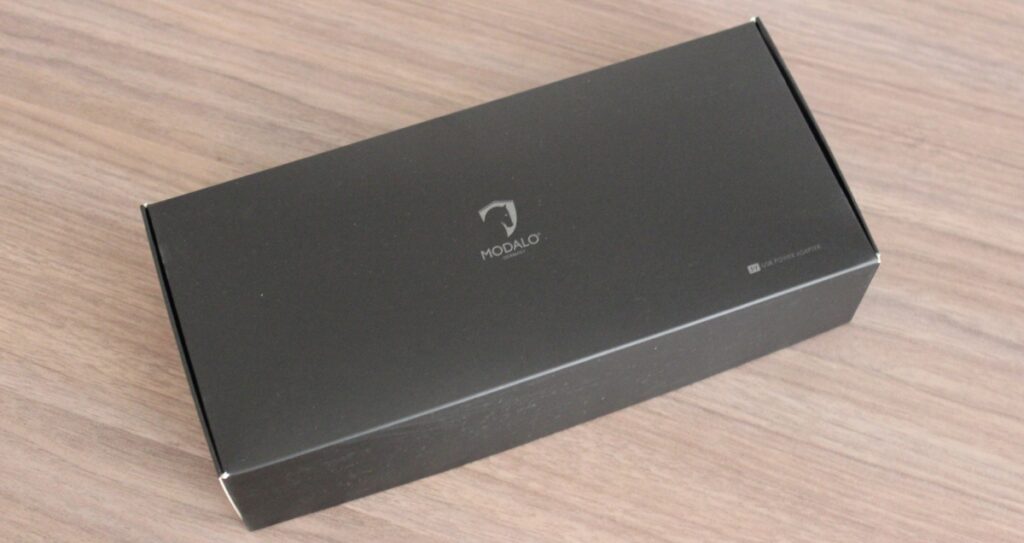 The watch holder has a debossed Modalo logo on the face and is spring loaded so as to hold the watch in position – eliminating the chance of movement during winding. A slide on adjuster allows for bigger adjustment range for smaller or larger bracelet/strap sizes. The holder is then slid into the unit being held securely in place by the side mounted spring loaded ball bearings.
The German manufactured motor is capable of winding without complaint a watch of 400g, catering for even the largest of platinum or gold timepieces, up to 60mm case diameter with a wrist size of 15-21cm. All Modalo watch winders are given a 2 year manufacturers warranty for total piece of mind.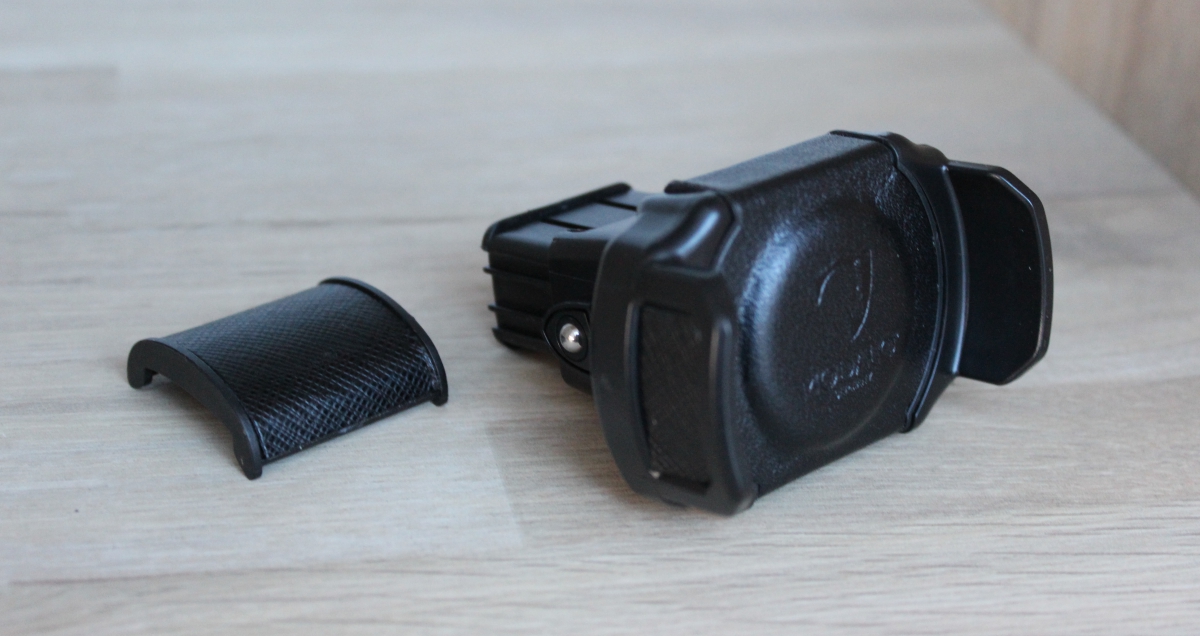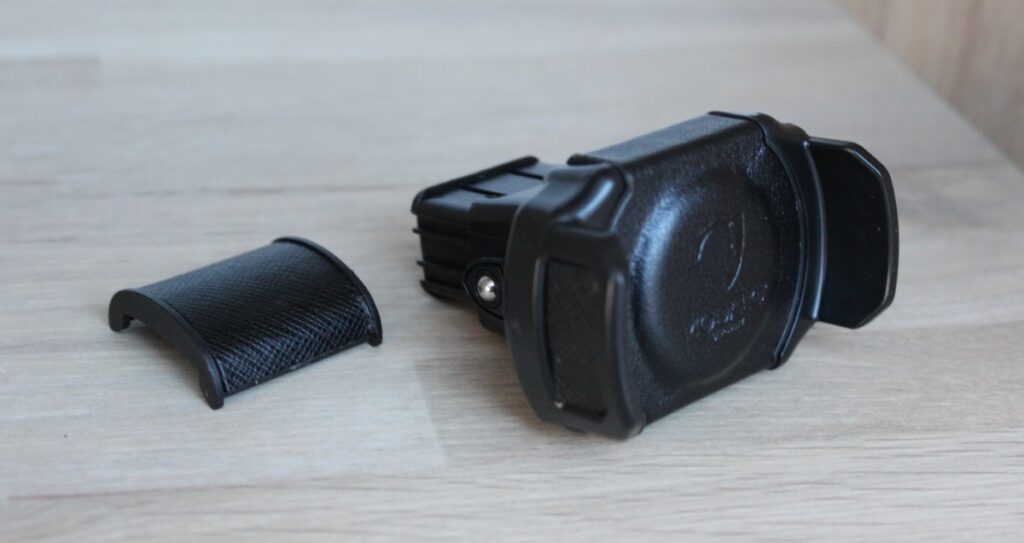 In summary… The Saturn offers a comprehensive coverage of winding specs – I would hazard a guess at suitable for 99% of watches on the market (my opinion). It is of a sturdy wooden construction, not the cardboard construct that some brands favour (not sold at 1010 Boutique I must stress). We have a finish that is on a par with, if not superior to many brands and an ultra silent German engineered motor that has plenty of power and yet is extremely efficient. Combine these points with the fact that the Saturn is currently our most popular model, I feel that my statement that 'there is no equal' is justified. There is nothing I can think of that ticks those boxes at the £305 price point. (Price accurate at time of publishing)
The whole idea of researching, selecting and purchasing a watch winder can sometimes be rather daunting. You may or may not know your specific watch's requirements in terms of TPD (turns per day). You may or may not have a budget to stick to, a particular style of winder in mind, single, double or multiple. Many different questions of which we can always help you with so please do get in touch.
£305.00

Availability: In Stock - Ready To Ship

£305.00

Availability: In Stock - Ready To Ship

£305.00

Availability: In Stock - Ready To Ship
we are approved sellers of