Product Review
A simple idea, perfectly executed…
The Travelbox is something of a master stroke from the Swiss Kubik. The Swiss based outfit has rolled  arguably the two most important watch accessories into one unit. A unique piece of kit that not only allows the user to take their timepiece with them on their travels safely, but also offers a fully programmable and compact watch winding facility. A travel case and luxury watch winder in one!
At first glance you may feel that being asked to part with £990 for such a device is excessive, but we'll come back to that later…
Let's start at the beginning with the packaging. This isn't just a simple carton or box to get the product from A to B. It has been designed thoughtfully and has an engineered feel with attention paid to the smallest detail. Solid & robust utilising two types of recycled card that offer a classy & modern yet considered product. The double thickness outer shell is countersunk at the top edge to allow the signed lid to nestle perfectly within. The Travelbox is easily removed using the pull tab, this then allows us to see the accessories neatly stored below in their precision cut foam inlay. No loose plastic bags here, everything is tidy, well thought out and immaculately presented.
The Travelbox is available in black leather or a choice of either blue or black 100% recycled marine polymer (rPET). All 3 variants are priced the same. Today I am dealing with the latter.
When handling for the first time you immediately notice how robust it feels, the shell would leave you confident that this could reside at the bottom of your suitcase without having to worry about it getting squashed. The weight, not overly heavy but gives a reassuring feel of quality manufacture. The black rPET has a subtle check effect that gives a slight texture and in certain light tends to take on a charcoal appearance.
Opening the smaller compartment, your watch sits on the cushion that has plastic mounts on the sides, these keep the watch in position during transit but also enable the cushion to be transferred easily to the winding compartment without need to remove the watch. (It is worth noting at this point that the cushion has a sleeve that can be removed to accommodate watches of smaller wrist sizes).
You then simply lift the arms on the winding mechanism which allows you to click into position the cushion with minimal effort. By holding the Travel box in both hands, you simply twist the two sections about 30 degrees which allows the winder to sit stably on a surface and also activates a built in on/off switch and the winder begins it's cycle. Even in my very quiet office, the sound of the motor is almost undetectable, very impressive indeed. Once a cycle is complete, the winder returns to a vertical position before stopping.
When it comes to programming the Travelbox, Swiss Kubik have created an app, making things extremely straightforward. Simply download from Google or the App Store (no registration or frustrating forms to fill out!) and select the required number of turns per day (TPD) from the extensive list – hundreds to choose from in stepped increments. Combine this with the selectable clockwise, anti-clockwise and bi-directional rotation, the Travelbox really is suitable for any watch at all.
So, back to parting with over nine hundred of your hard earned notes. There's no arguing that it is a lot of money, but it is all relative. With Swiss Kubik, you know that you are putting your money into a superior brand that is able to boast that their products are 100% made in Switzerland, and let's be honest, you didn't need to spend thousands on a watch to tell you the time when your mobile phone can do it for you, but you chose to make the purchase. The Travelbox will protect your cherished piece and also keep it ticking when you aren't wearing it, which as we all know, is critical in keeping the watch in good working order.
As An Alternative…
Despite no other brand manufacturing a product quite like the Travelbox, the below items are comparative in their build quality, function and feel.
The Swiss Kubik Masterbox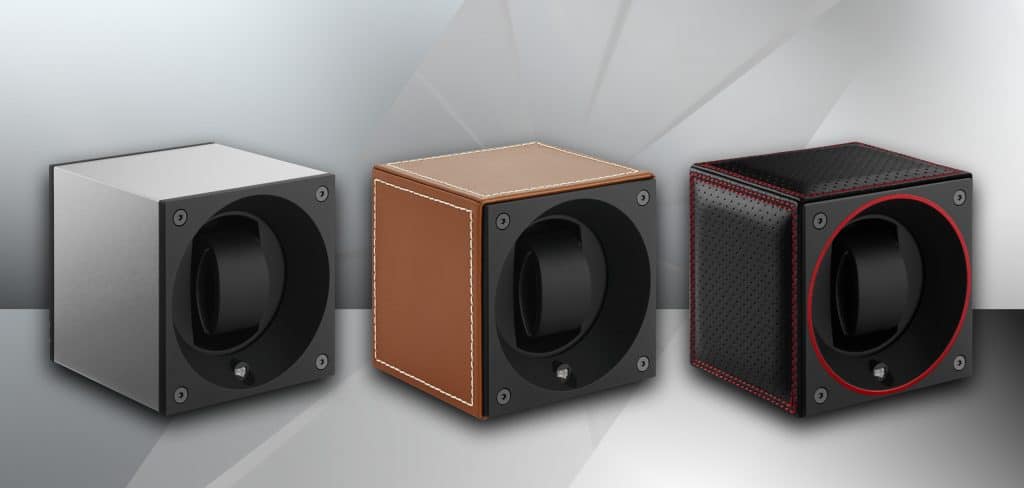 The Masterbox is one of the, if not the finest cube winder currently on the market. Boasting the same technology and motor as the Travelbox it can be fully programmed via Bluetooth or wired connection. The Masterbox is an ultra compact 10cm cube available in a wide range of customisable exterior finishes including Aluminium, Leather and wood. It can be powered by battery or mains making a perfect companion for travel.
The Rapport Hyde Park Roll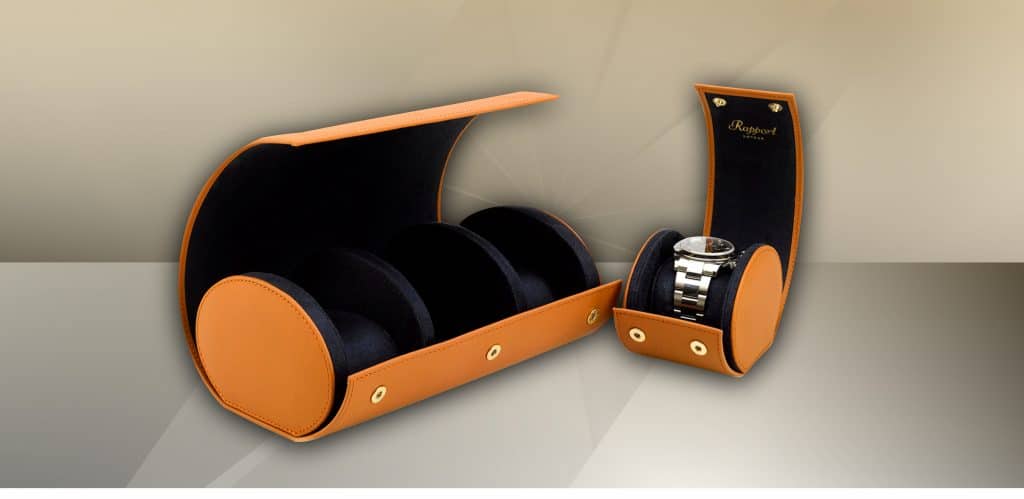 Clearly, this is a roll and not a winder! Nevertheless, should you be looking for a travel case manufactured from the finest materials and to the highest of standards, then the Hyde Park warrants your attention. Of sturdy construction and finished with a premium leather and a suede feel interior, the Hyde Park can comfortably take care of 3 watches, with a removable middle roll that can be used as a single roll or to store jewellery such as cuff-links or even a spare bracelet! Available in Blue or Tan.
The Swiss Kubik Travelbox Range
£1,150.00

Availability: Ships In 7-10 Days

£1,150.00

Availability: Ships In 7-10 Days

£1,200.00
we are approved sellers of