Benson Black Series Double Watch Winder – Macassar
Availability: Stock expected July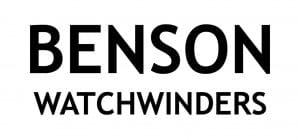 The Benson Black Series watch winders belong to the most luxurious line of this Dutch brand. These watch winders are made by hand and combine the most modern technology and beautiful finish with a stylish design. This Benson Black Series 2.16.MA watch winder is suitable for winding 2 automatic watches and offers storage space for 3 other watches. The watch winder has a macassar style and has 12 layers of paint and 1 protective layer of lacquer. In addition, this watch winder has a touchscreen, LED lighting, soft-close lid and a speed winding function. Each rotor is individually adjustable in terms of direction of rotation and TPD (turns per day). In this price range, the Benson Black Series 2.16.MA watch winder is definitely the best choice.
Free Gifts
At 1010 Boutique, our aim is to give you the best customer service and experience when buying your accessories. As a thank you for choosing 1010 Boutique we would also like to offer you a personalised high quality leather key fob and a complimentary Care Kit. The gifts are available in various configurations at different price breaks and will be applied in conjunction with any other promotion running simultaneously.
Product Information
| | |
| --- | --- |
| Adjustable Turns Per Day: | Yes |
| Energy efficient: | Yes |
| Independable rotors: | Yes |
| LED lightning: | Yes |
| Noiseless: | Yes |
| Overwind protection: | Yes |
| Power winding: | Yes |
| Touchscreen display: | Yes |
| Weight: | 5500 gram |
| Height: | 24 cm |
| Width: | 24 cm |
| Length : | 26 cm |
| Storage for: | 3 watch(es) |
| Interior colour: | Black |
| Glass material: | Mineralglass |
| Watch winder material: | Wood |
| Power supply: | Adapter (line current) |
| Program: | 3 programs (CW, CC, Alt) |
| Watch winder colour: | Macassar |
| Motor type: | Japanese |
| Suitable for: | 2 watch(es) |
Product Specification
Number of Watches : 2 Watches plus Storage for 3
Turns Per Day (TPD) : Fully Programmable
Rotation Direction : Clockwise, Counter Clockwise & Bi-Directional
Power Source : Mains Only
Size : 26CM L x 24CM W x 24CM H
Colour : Macassar
Part Number : 2.16.MA
Suitable for your Watch?
This winder is suitable for:
Rolex
Breitling
Omega
Tag Heuer
Patek Philippe
Panerai
Cartier
Tudor and many more …
This winder will wind the vast majority of Automatic Watches on sale today which share very similar winding specifications.
A small number of watches require very specific settings … If you are unsure, please do not hesitate to contact us and one of our customer services team will be delighted to guide you to the perfect Watch Winder for your requirements.  Can us on 0161 468 2780
Catalogue
Benson Black Series – Catalogue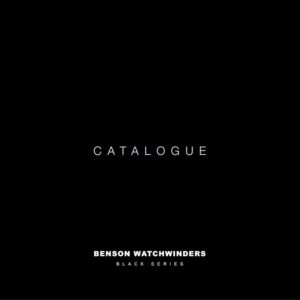 User Guide
Benson Black Series – User Guide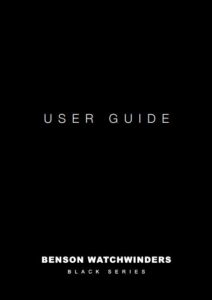 Shop With Us
Showroom – Visit our dedicated showroom by appointment
Free Shipping – Free shipping on all orders
Customer Care – Superb customer service, read our reviews
Expert Advice – Knowledgeable & passionate staff always willing to help
Gift Wrapping – Complimentary gift wrapping service
Next Day Delivery – Same day dispatch on weekdays up to 12pm
Free Gifts – Free gifts on all orders over £30
Returns – Free returns on all orders

Extremely helpful and knowledgeable.
I would have no hesitation using them again.
They went above and beyond what is expected.
An excellent company to deal with.
Trustpilot Verified Customer 16th April 2021

I was desperately looking for a specific watch winder for my husband's birthday which seemed to be sold out everywhere! What an extraordinary online and yet personal shopping experience. A custom service many should take an example of. I will for sure be a returning customer for many years ahead. Thank you so much A.! Greetings from Switzerland.
Trustpilot Verified Customer 26th March 2021

I have now purchased a number of watch accessories from 10101 Boutique; they offer lovely products at reasonable prices along with unparalleled customer service.
I'd highly recommend using them.
Trustpilot Verified Customer 24th March 2021

Exemplary customer service and product knowledge from Alistair. Purchase arrived the next day. Highly recommend.
Trustpilot Verified Customer 19th March 2021

Excellent product as you would expect from Wolf but the addition of initials to make it extra special for a landmark birthday was superb. Also exceptional customer service….I received a call to confirm details of my order less than an hour after placing it and received the items within 24hrs with free delivery. Would wholeheartedly recommend.
Trustpilot Verified Customer 13th March 2021

Fantastic customer service from Alistair who helped my choose the perfect birthday present for my husband. Beautifully, stunning products & once I'd decided my delivery arrived, extremely well packaged within 24 hours as promised.
I will definitely be a returning customer & would highly recommend everyone to use them!
Trustpilot Verified Customer 7th March 2021

Excellent service of Alistair, couple of problems which were beyond his control but he took full responsibility ,and kept me in touch every step of the way ,went above and beyond and would definitely recommend 1010 to family and friends
Trustpilot Verified Customer 13th April 2021

I found this company to be extremely prompt with their replies, very helpful and I received the product immediately and the product and the engraving were both excellent.
I would not hesitate in recommending this company.
Trustpilot Verified Customer 5th April 2021